Emergency Dentistry – Marysville, OH
Healing Smiles and Relieving Pain
Dental emergencies can strike a person of any age at any time, and our team at Northwest Family Dental of Marysville is prepared to help no matter what you need. Whether your tooth is broken, in severe pain, or fully knocked out, contact our dental office as quickly as you can, so we can start repairing your smile. We're usually able to see emergency dental patients the same day they call, even on weekends or after-hours, so call our team to schedule your urgent visit for emergency dentistry in Marysville, OH!
Why Choose Northwest Family Dental of Marysville for Emergency Dentistry?
Same-Day Emergency Visits
We Welcome Every Member of the Family
Calming Nitrous Oxide Sedation Available
How We Treat Dental Emergencies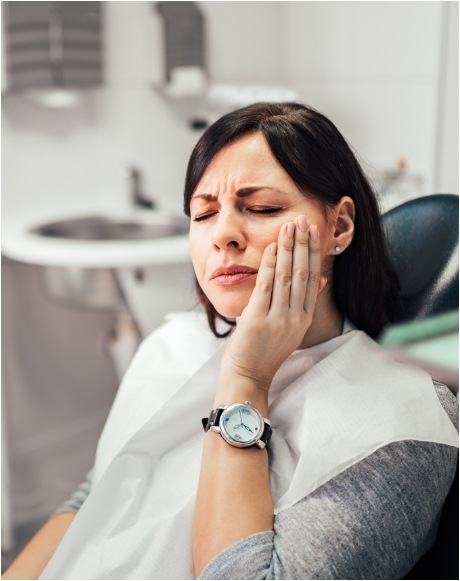 Schedule your appointment right away – As soon as you notice a dental problem that needs immediate attention, please call us. When you do, one of our team members will ask you questions about what you're going through, evaluate the urgency of the situation, book a visit accordingly, and provide pain-management tips in the interim.
Identify the problem – During your appointment, one of our dentists will examine the area of your mouth that is bothering you to determine the cause of the issue. Additionally, they'll relieve any immediate pain you might be feeling.
Discuss your treatment options – After the exam, our dentists will break down what they found and give you a thorough picture of how it's impacting your oral health. They'll then suggest a plan to treat the problem and prevent it from arising again later on.
Start restoring your smile – Once we've discussed the estimated costs and timeline that come with your treatment, we can move forward and begin repairing your smile.
The Most Common Dental Emergencies
Even if you're not sure whether the issue you're facing "counts" as an emergency, we ask that you give us a call anyway. It never hurts to be safe, and dental problems tend to get worse when left untreated. Until then, you can find some helpful information below about many of the most common dental emergencies that we see.
Understanding the Cost of Emergency Dentistry
Not all dental emergencies are the same, so the cost of treating them can be quite different from one patient to another. An aching tooth, for example, might be fixed with a simple filling, or it may require more extensive and costly treatment like root canal therapy. Regardless of what your smile needs, we'll make sure you're fully aware of the costs associated with your care beforehand. Our team will do everything possible to fit the total price of emergency dentistry in Marysville into your budget.
Every Dental Emergency is Different
Believe it or not, visiting your emergency dentist in Marysville is not as expensive as you think. During your appointment, our team will conduct an oral examination and take X-rays if needed to identify the cause of your emergency. Using our findings, we'll create a custom treatment plan to get your smile back on the right track.
The type of procedures you'll need will vary based on the emergency you're experiencing. Even then, it's impossible to provide an accurate price estimate until you come into our office for an exam. Don't worry – we'll thoroughly explain the pricing information for all your options before you move forward with anything.
Taking Care of Your Smile Can Save You Money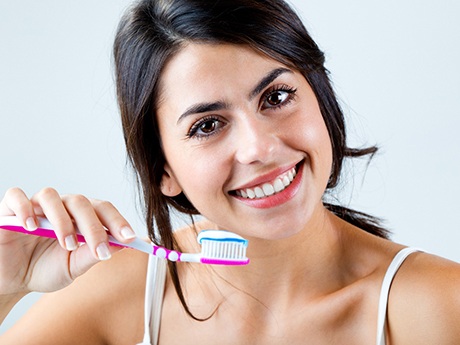 You can't predict or prevent every dental emergency. Sometimes they happen because of accidental injury, like when you trip and fall on the sidewalk. However, most emergency situations are the result of unchecked infection or damage. By investing in routine dental checkups and establishing a solid oral hygiene routine, you can potentially save thousands of dollars over the years.
As soon as you notice something wrong with your mouth, you should make an appointment with your emergency dentist in Marysville. By doing so, you can prevent the costs from getting larger the longer you wait. Putting off much-needed dental treatment will only worsen your pain, causing you to need more expensive procedures down the line.
Does Dental Insurance Cover Dental Emergencies?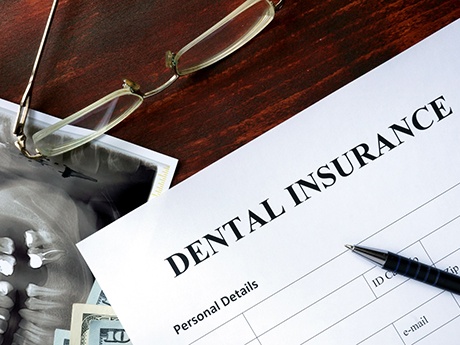 Most dental insurance plans do offer some form of coverage for emergency dentistry. Usually, at least one yearly emergency exam is covered, and any treatments associated with hurting teeth are eligible for partial coverage. Services like root canal therapy, dental crowns, and tooth extractions often receive 50%-80% of coverage in most cases. Of course, every policy is unique, which is why you should confirm the details with your insurance provider before committing to anything.
Other Options for Making Dental Emergencies Affordable
Don't have dental insurance? No problem! At Northwest Family Dental of Marysville, we offer additional financing options to help make your treatment as affordable as possible. Some of those include:
CareCredit Financing – With this option, you can split up the total cost of your treatment into smaller monthly installments. Best of all, these payment options often come with little to no interest attached, allowing you to save even more money!
In-House Membership Plan – For one annual fee, you can get the preventive care you need and enjoy sizeable discounts on many other services! You'll also have access to one fully covered emergency exam per year.
How to Prevent Dental Emergencies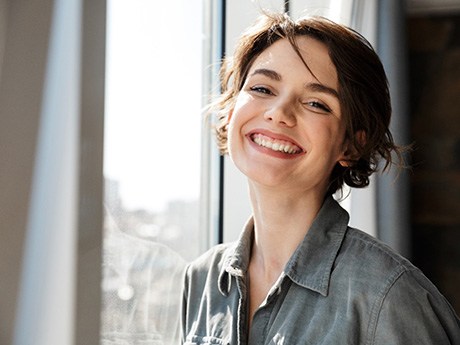 Dental emergencies aren't always avoidable, but there are many steps you can take to significantly lower your risk of one happening. It's always easier to prevent one than it is to deal with when it pops up unexpectedly! By following a few simple precautions and incorporating healthy habits into your everyday life, you can greatly minimize your chances of a dental emergency in Marysville.
Visit Your Dentist Regularly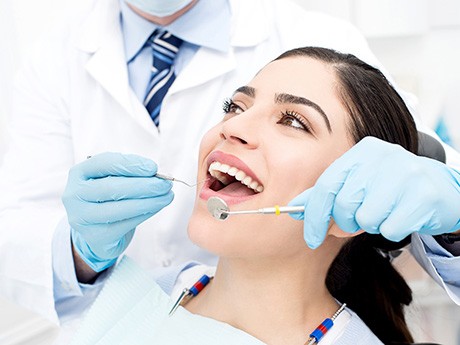 Everyone needs to visit their dentist in Marysville every six months to keep their oral health in tip-top shape. These routine appointments are essential, allowing us to spot and treat issues before they turn into serious complications. Better yet, we can prevent anything from happening in the first place with a thorough checkup and cleaning!
Maintain Good Oral Hygiene Habits at Home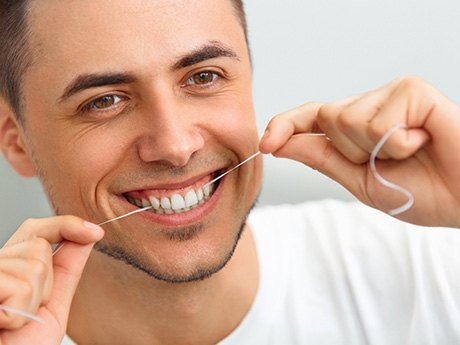 Aside from visiting your dentist regularly, you need to practice good oral hygiene to protect your smile from damage and infection. Brushing twice a day, flossing daily, and rinsing every day with an ADA-approved mouthwash will keep your teeth and gums problem-free. These habits are crucial for removing harmful particles and unwanted debris that could cause an infection.
Be Careful with Your Diet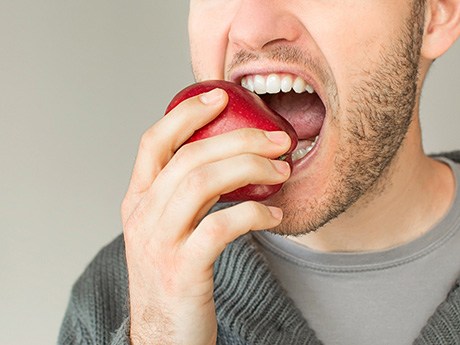 Believe it or not, your diet can have a significant impact on your oral health. Overindulging in sugary, hard, and acidic foods can increase your chances of decay and infection. Eventually, they can wear down your teeth, leaving them weakened and sensitive. Instead, you should be mindful of your diet and eat plenty of nutritious foods. Fruits, vegetables, whole grains, lean proteins, and dairy products can improve your oral health.
Wear a Mouthguard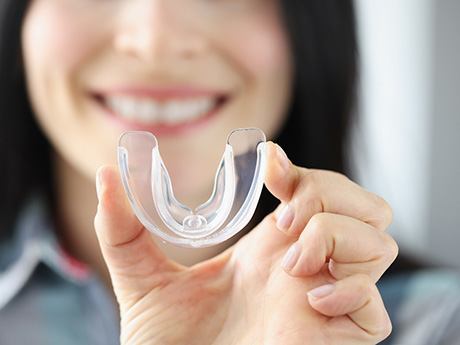 If you regularly play sports, you should ask our team about a custom-made athletic mouthguard. The oral appliance will protect your smile from any impact should you sustain a blow to the face. If you regularly grind your teeth at night, you can ask about a nightguard to protect your teeth from extra wear and tear.
Use Tools, Not Teeth to Open Packaging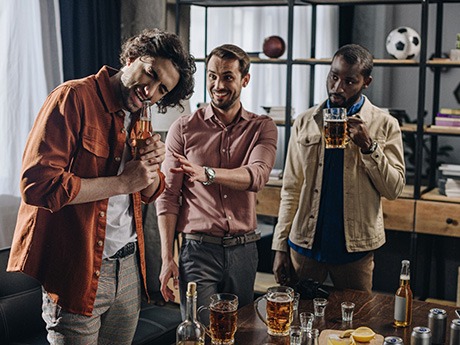 You should never use your teeth to open containers, bags, or packages! Using your pearly whites for anything other than eating can easily cost you a trip to your emergency dentist in Marysville. Instead, wait until you have the right tool with you or ask someone to lend you a helping hand.
Dental Emergency FAQs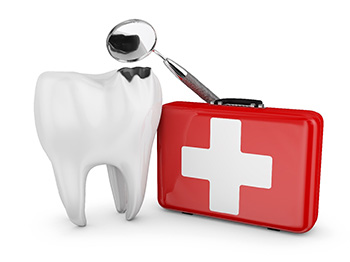 Reading through the above information can give you valuable insight into everything from the common types of dental injuries to emergency response tips. However, to be as prepared as possible, you may still have some questions on your mind. Well, we want to help! Keep reading for answers to some of the most frequently asked questions we get from patients regarding a dental emergency in Marysville.
Will My Toothache Go Away on Its Own?
Despite popular belief, toothaches do not heal on their own. In fact, a once-painful toothache that has "disappeared" may actually be an indicator the infection has damaged the nerve of the tooth! Therefore, it's always a good idea to schedule an appointment with your dentist right away. From there, they can determine the root of the problem and put a plan in place to restore the look and function of your smile.
Should I Visit the Emergency Room First for Dental Emergencies?
If your dental emergency has resulted in a potentially life-threatening condition, like difficulty breathing or a broken jaw, then you should head to your local emergency room first. However, ERs typically don't have dentists on staff, meaning they won't be able to address dental emergencies effectively. Therefore, with all other smile-related injuries (lost filling, knocked-out tooth, etc.), your first call should be to your emergency dentist in Marysville.
My Chipped Tooth Doesn't Hurt. Do I Still Need a Dental Visit?
Even if your chipped tooth doesn't hurt, it's a good idea to schedule an appointment with your dentist. Although you may not be in any pain, the inner layers of your tooth could be vulnerable to damage. Plus, your chipped tooth may break further without professional attention, resulting in sensitivity, soreness, and overall discomfort. With that being said, you can most likely afford to wait a day or two until your appointment if needed. Just make sure you don't put off seeing your dentist for too long.
What Should I Keep in My Emergency Dental Kit?
From a lost filling to a knocked-out tooth, dental injuries can be anxiety-inducing. To make the entire experience as stress-free as possible, preparation is paramount. You should keep an emergency dental kit accessible with these essentials:
A storage container large enough to fit a tooth or restorations
Sterile gloves
Gauze pads
Cotton balls
Dental cement (or other temporary filling material)
Denture adhesive
Petroleum jelly
Anti-inflammatories such as ibuprofen
Orajel
Floss
An ice pack or cold compress
Contact information for your emergency dentist in Marysville