Dentures – Marysville, OH
The Perfect Prosthetic For You!
If you're missing many (or all) of your teeth, that can seriously affect how you feel going through life. You may find yourself struggling to talk, eat, and smile in the way that you used to. Thankfully, for patients around Marysville, OH, our team at Northwest Family Dental can craft the perfect prosthetic for you!
Dentures can radically change how you look and feel about yourself, so what are you waiting for? Give us a call today and we'll welcome you in for a consultation.
Why Choose Northwest Family Dental For Dentures?
Will Work With You To Maximize Your Insurance Benefits
Friendly, Experienced Dental Team Focused On Your Happiness
High-Quality Materials For a Durable Prosthetic
Who Is a Good Candidate for Dentures?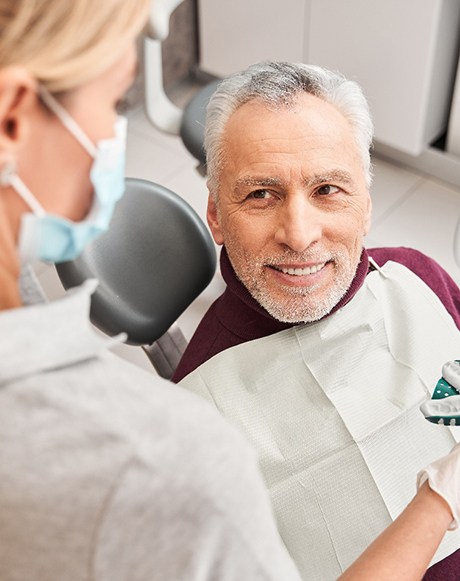 If you're missing a lot of teeth, you can probably imagine what a set of dentures can do for you. Missing teeth can stop you from eating your favorite foods, talking properly, and even smiling as much as you'd like to. Dentures can give you back all of those things.
Dentures are ideal for patients who are missing most or all of their teeth—if you're missing just one or two, other replacement options may be the best thing for you. Dentures also rely on your gums for support, so having healthy gums is fairly important to your candidacy for the prosthetic. Overall, most patients facing moderate to severe tooth loss are excellent candidates for dentures!
Types of Dentures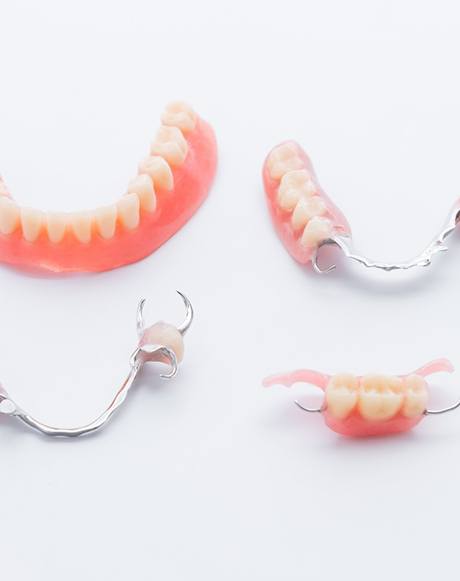 There are a few different kinds of dentures, and each of them is better suited to some people than others. We'll talk with you at a consultation about which kind of dentures are best for you, and what you can expect the process of getting dentures to look like.
Partial Dentures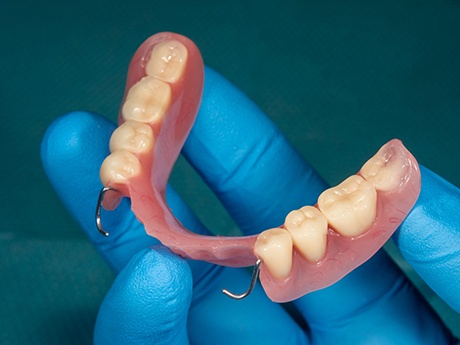 Even if you aren't missing all of your teeth, having large gaps in your smile can dramatically impact both your confidence and your ability to chew your food completely.
Partial dentures are designed to take the place of several teeth at once. They're made up of a long string of acrylic teeth with metal hooks on either side of them, allowing them to slip onto your natural teeth for support.
Full Dentures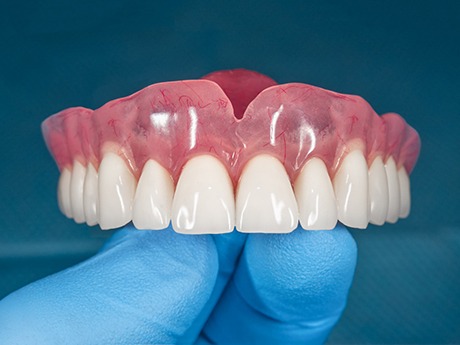 Full dentures, as you might imagine, are designed for people who are missing all of their teeth on a single arch. That means that you don't have any teeth to hook onto, so the dentures have to be specially designed to fit snugly onto your gums via suction.
We'll make a model of your gums, then design the base of these dentures to match them perfectly so that they can comfortably and securely stay in your mouth.
Implant Dentures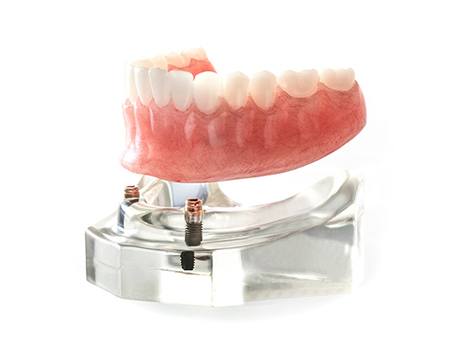 While full dentures can be strong and stable, there's only so much they can do with suction alone. If you're looking for something even sturdier, implant dentures can help.
This is a full set of dentures attached to dental implants, which are metal posts surgically placed in the jaw. This offers them a level of support that traditional dentures don't have, leading to fewer denture sores and a stronger overall bite.
The Benefits of Dentures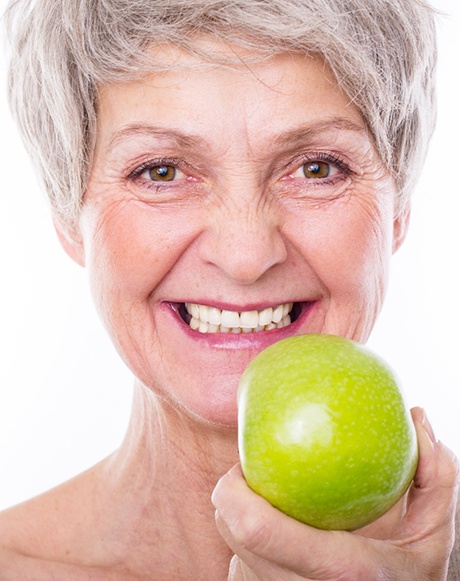 A well-made set of dentures is nearly indistinguishable from natural teeth, so getting them can make your cheeks look fuller and your smile much wider. We work hard to ensure our dentures fit our patients' mouths perfectly to make sure they not only look their best but are also strong enough to help our patients eat a nutritious diet.
Still, as incredible as they are, dentures are also some of the most convenient methods of tooth replacement. They're inexpensive and easy to clean, making them some of the biggest bangs for your buck that you can get.
Understanding the Cost of Dentures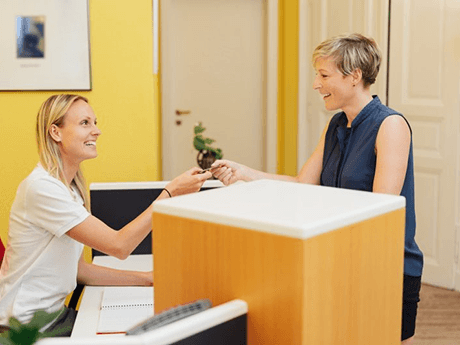 Struggling with tooth loss can be an incredibly difficult experience, and dentures are one of the most reliable ways to address this. However, you may be wondering how much you'll expect to pay for this treatment. Due to everyone's unique smile, the overall cost of dentures can vary from person to person. That's why you'll need to schedule an initial consultation with our team to get a proper price estimate. Until you visit us, here are a few things you'll need to consider when it comes to the cost of dentures!
Factors That Affect the Cost of Dentures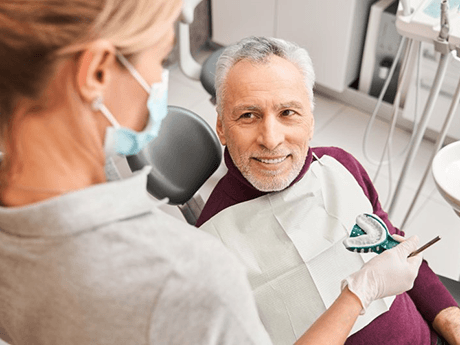 Several aspects can influence the price of dentures, including:
Any preliminary procedures necessary (such as tooth extractions, periodontal therapy, etc.)
The number of teeth that need to be replaced
The kind of acrylic used to construct the base of the denture
Materials used to fabricate your artificial teeth (like acrylic and porcelain
Those who are working with a budget may sometimes consider opting for a cheaper denture product. While tempting, these prosthetics can end up causing more problems. Not only will the materials used be lower-quality, meaning they can become damaged or warped more easily, but you'll likely need to get replacements much sooner, costing you more money in the long run. With professional dentures, you'll expect to enjoy a reliable, lifelike, and high-quality product for renewing your smile.
Are Implant Dentures More Expensive?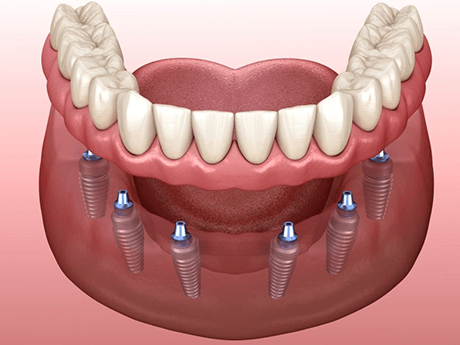 While implant dentures are more costly than traditional ones, there's a good reason for this. These prosthetics involve oral surgery as well as the placing of dental implants in the jawbone. This procedure is more invasive, but the results are incredibly worthwhile. On top of rebuilding your missing teeth, the metal posts will also help preserve your facial shape, jawbone, and any remaining teeth in your mouth. The result: a much stronger bite that can last decades to a lifetime with proper care!
Does Dental Insurance Cover Dentures?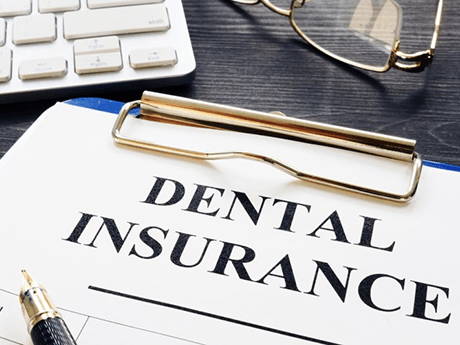 Dentures are meant to restore lost teeth and renew your bite, so they're typically covered by dental insurance. While the amount can vary from patient to patient, the usual coverage can often be around 50-80% of the total cost of treatment. That said, no two policies will look the same, so you'll want to consult your provider before going forward with your treatment, that way you're aware of the details of your plan. If you need help navigating your policy and making the most of your benefits, our knowledgeable team is also here to help.
Other Options for Making Dentures Affordable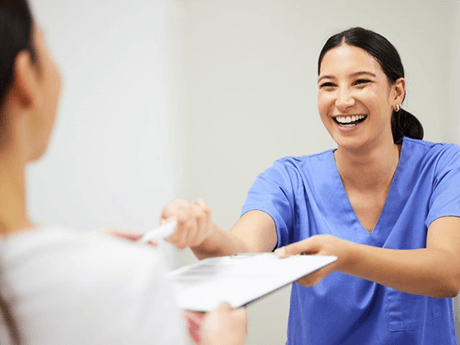 Our practice understands that not everyone has dental insurance. For this reason, we're proud to offer various alternative methods for making your treatments more manageable for you. Our team has in-house membership plans that, with either a monthly or annual fee, can provide significant discounts on multiple procedures, including dentures. We're also partnered with CareCredit and Cherry—third-party financiers that can help split the price of dental care into monthly payments that usually come with little-to-zero interest!
Denture FAQs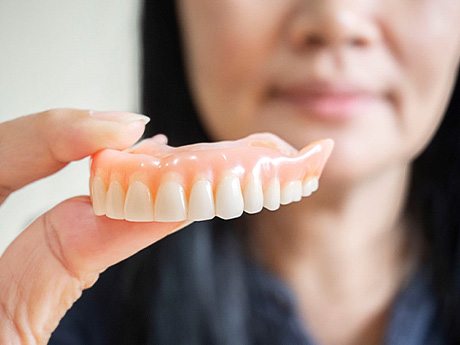 Dentures can represent a massive quality of life shift for patients missing most of their teeth, but wearing your prosthetic every day can also take some getting used to. Approaching any kind of radical life change like this can leave patients with questions, and we'll be happy to answer any that you might have.
Until we can talk to you in person, here's a quick FAQ that can tell you a bit more about what wearing dentures is like and what they can do for you.
Do I Have To Remove Teeth In Order to Get Dentures?
We really wouldn't recommend extracting otherwise healthy teeth in order to make room for your dentures. As you may already be aware, the process of getting teeth removed isn't the easiest, which is why we would really only do it when absolutely necessary. Even if you have a tooth in an area that seems inconvenient for your dentures, partial dentures are stable enough that we can easily construct them despite you having those teeth.
That said, if all of your teeth on a given arch are infected, it may be more economical to extract them and replace them with dentures that cover each of them with crowns. We'll be happy to talk to you about whether that could be the best option for you.
Do Dentures Make It Hard to Talk?
If you're used to talking with your natural teeth, or even without any teeth at all, suddenly getting a new set of dentures can take some getting used to. However, as with anything, it'll get easier the more you practice.
Some people experience a kind of lisp at first, so if you notice this happening, focus on repeating the words you have the most trouble with until saying them is second nature.
What Can't You Eat with Dentures?
While dentures can be pretty strong, they're mostly held in place via suction to the gums. As a result, there are some foods that you may want to steer clear of for the sake of your prosthetic.
For one, sticky and gummy foods can potentially pull your prosthetic out of place, which allows food to get trapped under your dentures and irritate the gums. There are also nuts and popcorn that are often too hard for the acrylic of your prosthetic.
Finally, chewier meats like steak and pork chops can be a little bit difficult to eat with your dentures and put undue pressure on the gums.
Will Dentures Change the Shape of My Face?
Your teeth act like the poles in a tent, propping up the cheeks and adding structure to the face. Without them your face may have a sunken appearance, leading to premature wrinkles and an older appearance.
If you get a set of well-fitting dentures, they'll be able to improve the way you look with your mouth both open and closed.